Chlorofyll
9 out 10 people don't eat enough vegetables! We say: add more green to your life… It's easy!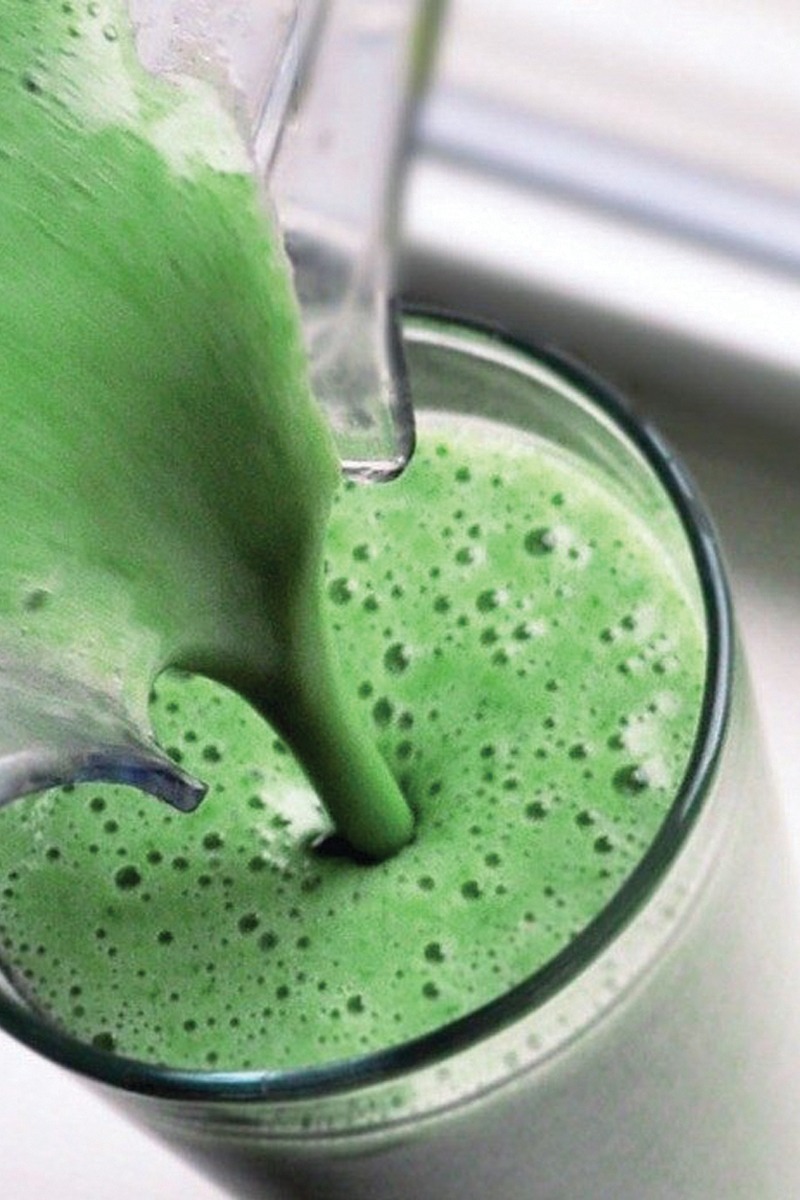 Chlorofyll
Everybody knows that it is important to eat plenty of vegetables. On the other hand it turns out that less than 10% of Europeans are eating the recommended daily amount of fruits & vegetables. One of the reasons we need to eat enough vegetables is to make sure we get enough chlorofyll. Chlorophyll is the green pigment found in all plants. It is the powerhouse of the plant, responsible for energy production. In our body, chlorofyll works as a powerful anti-oxidant.
Naturally, you can find chlorophyll in all green leafy vegetables. However, chlorophyll is easily destroyed during cooking. So, to derive maximum benefits it is better to eat it raw. This can be in the form of vegetable juice,salads or green algae superfoods!
Micro-algae Spirulina, Chlorella and Marine Phytoplankton contain more chlorophyll than any other food source. These superfoods are thus making it very easy to get your daily dose of "vegetables"
The advantages of chlorophyll
Chlorophyll or chlorophyll is a good source of antioxidants . Anti -oxidant food substances such as vitamins A , C and E help to neutralize harmul molecules (free radicals) thatmay cause to damage to healthy cells
Another important benefit of chlorophyll is its role in the production of red blood cells. By making more red blood cells, chlorophyll helps with the growth and maintenance of tissues and helps to heal wounds effectively. Chlorophyll also decontaminates and inhibits the growth of bacteriain the body .
Chlorophyll and chlorophyllin are able to bind with chemicals that are known carcinogens, including polycyclic aromatic hydrocarbons which are found in tobacco smoke. Chlorophyll is known to neutralize polluted air when inhaled, making it an absolute plus for smokers or people who live in the city .
Another charming side effect is that chlorophyll works wonders against bad breath! Chlorophyll works in two ways against bad breath . In the first instance as a deodorizer , it neutralizes odors in the mouth and throat . Second ( and more importantly ) it promotes a healthy digestive system – which is the main reason is bad breath .
But there is more. According to the U.S. NIH (National Institute of Health) chlorophyll also has anti-carcinogenic properties . Chlorophyllin ( CHL ), a water-soluble derivative of chlorophyll , ' exhibits strong anti – mutagenic activity against a variety of carcinogens . " In a study from 2007 140 trout were induced with liver and stomach cancer. They were fed with HL (2000 ppm), which protected them from liver and stomach cancer.
Another major advantage of chlorophyll are it's properties as chelating agent. Chlorophyll binds with toxic heavy metals in the body and it will be removed safely.For example, mercury is a toxic metal that chlorophyll can remove well.  Chlorophyll is a great option for those with mercury fillings in their teeth or those who they just have it removed . Often is much mercury is released in the body in this procedure.
Maintaining healthy , clean blood is essential in the effort to illness and to prevent  the diffusion of free radicals The molecular structure of chlorophyll is almost identical to the molecular structure of hemin. Hemin is a part of hemoglobin , a protein that carries oxygen in the blood in the body.
Note the following two structures :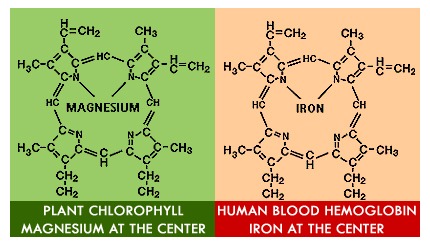 The only difference between the chlorophyll and the hemin is the fact that magnesium (Mg) thecenter of chlorophyll and iron (Fe) central hemin.
Scientists have studied the assimilation of chlorophyll in the body and  found that at a certain point the magnesium changes in iron. It is still not known how this process works or how this change is made. .
Nevertheless, the intake of chlorophyll could be regarded as a "green" blood transfusion. The best way to get chlorophyll in the diet is through a chlorophyll supplement like marine phytoplankton or spirulina and chlorella. They can be easily taken in powdered form in smoothies or as tablets.
scientific references:
http://onlinelibrary.wiley.com/doi/10.1111/j.1365-2621.2002.tb08782.x/abstract
http://www.ncbi.nlm.nih.gov/pubmed/18069110
http://www.scirp.org/journal/PaperInformation.aspx?paperID=35234#.U2ZFqfl_vJI
http://www.sciencedirect.com/science/article/pii/S0963996910004898
"There are two kinds of cardiologists: vegans and those who haven't read the data."
DR. KIM WILLIAMS
Some people think a plant-based diet, whole foods diet is extreme. Half a million people a year will have their chests opened up and a vein taken from their leg and sewn onto their coronary artery. Some people would call that extreme.
Dr Caldwell Esselstyn
"You will find that your taste buds have a memory of about 3 weeks."
― Neal D. Barnard, Dr. Neal Barnard's Program for Reversing Diabetes: The Scientifically Proven System for Reversing Diabetes Without Drugs
After doing my research I feel comfortable taking this. All natural, easy to swallow, no after-taste with no noticable side effects . I take 3 capsules  twice a day and I like the results. Gives me that added boost of energy I need to keep moving.
Location
Admiraal de Ruyterweg 185HS
1056GD – Amsterdam   The Netherlands
Email
info@phytoplankton.net
Office Hours
M-F: 8am – 5pm
S-S: 9am – 4pm